Here and Beyond: A Teacher/Student Initiative
[January 25, 2010]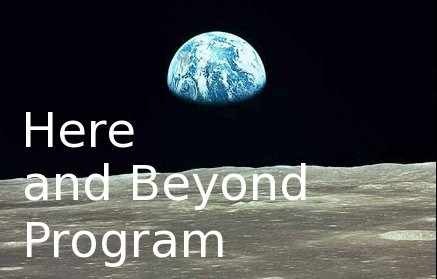 The purpose of this program is to assist teachers in their efforts to ignite student interest in
careers in science, technology, engineering, and mathematics.
It employes:
a) educational programs at individual Middle and High Schools,
b) Teacher/Student workshops at a state-of-the-art research facility, and
c) robotic telescope access for a wide student population.
The activities are designed to meet the goals of science education and the science education
standards. They engage the participants in making measurements, plotting graphs of the
results, building scientific models, making calculations, and predicting future events. Some
of the methods were developed with the support of NASA IDEAS
Grant Number ID05-691.
Five pathfinder Teacher/Student workshops have been held at the Steward Observatory's
61 inch Kuiper telescope on Mt. Bigelow. They were attended by 9 teachers and 19 students.
Two more Teacher/Student workshop are scheduled for March and April of 2010.
Educational software which operates a robotic telescope has been developed and used by
more than 1500 students. 220 students have logged into the educational software in 2010.
Team Members:

Teacher Maureen Adams       Westward Elementary School      Killeen,Texas
Teacher Janet Barrone       West Wing School, Deer Valley   Phoenix, Arizona
Teacher Barbara Cushing     Sonoran Science Academy         Tucson, Arizona
Teacher Stacy Darling       Orangewood Elementary           Scottsdale, Arizona
Teacher Tracey Dodrill      Mountainside Middle School      Scottsdale, Arizona
Teacher Linda Gilmore       La Plata Middle School          Silver City, NM
Teacher Richard Gilmore     La Plata Middle School          Silver City, NM
Teacher Michelle Headly     Sevilla West Elementary         Phoenix, Arizona
Teacher Staci Johnson       Cactus High School              Peoria, Arizona
Teacher Robin Jones         Cholla Middle School            Phoenix, Arizona
Teacher Christopher Martin  Howenstine High Magnet School   Tucson, Arizona
Teacher Kathleen Nicholson  Sonoran Science Academy         Tucson, Arizona
Teacher Karriaunna Scotti   Valencia Middle School          Tucson, Arizona
Teacher Elizabeth Sigman    Montebello School               Phoenix, Arizona
Teacher Noreen Sleator      BASIS School                    Tucson, Arizona


Teacher Nicole Snook        Toltecalli High School          Tucson, Arizona


Teacher Christina Waite     Phoenix School for the Deaf     Phoenix, Arizona


Dr. Al Grauer
[agrauer@as.arizona.edu]
Astronomer, Steward Observatory
University of Arizona
933 N. Cherry Avenue
Tucson, AZ 85721-0065

Dr. Bill Neely
[neely@mail.nfo.edu]
Astronomer, Web Master
NF/ Observatory
Silver City, NM

Teacher Christopher Martin
[martinbrockie@gmail.com]
Lead Teacher
Howenstein High Magnet School
508 N. Winstel Blvd.
Tucson, Arizona 85716

Teacher Richard Gilmore
[richardgilmore31@yahoo.com]
Lead Teacher
La Plata Middle School
3500 N. Silver St.
Silver City, NM  88061-7286